Signature Warmer + FREE Wax Melts
Choose Your FREE Collection Pack:
Choose Your FREE Collection Pack
🤩 100% Happiness Guarantee
3-6-9 Hour Auto Shut Off Timer

"No-Scrape" Silicone Wax Melt Removal Dish

Built-In Ceramic Heater

Soft Warm Glow for Ambient Lighting

(3) 2 Oz. Pouches of Your Choice Fragrance Collection

All Natural Soy Wax, Infused with Essential Oils
Expand the wax melt tab to see the fragrances in each collection pack.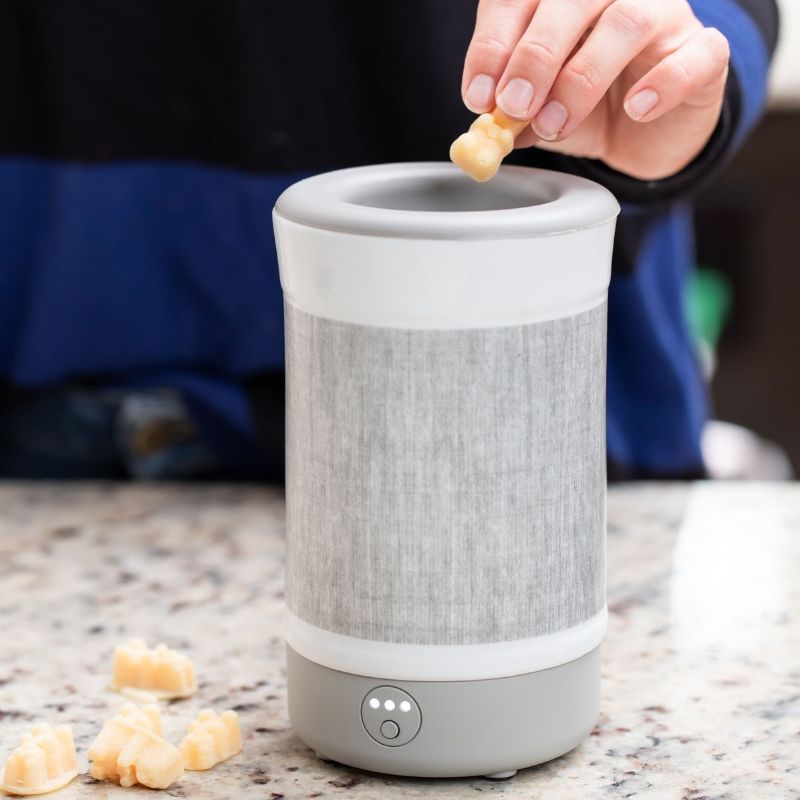 Wax Melt Collection Pack Details
With our Happy Wax® 48-Hour Sale you'll receive three 2 Oz. Sample Pouches FREE with your choice Signature Wax Warmer. Each of our 2 Oz. Sample Pouches contains approximately 16 of our adorable bear shaped soy wax melts. Choose from the fragrance packs of your choice below.

Beach Bear Collection Pack - Sea Salt & Sage, Bronzed Coconut, Pink Lemonade
Cozy Cabin Collection Pack - Bonfire, Bourbon & Wood, Pine Forest
Savory Collection Pack- Pumpkin Soufflé, Cinnamon Chai, Apple Harvest
Citrus Collection Pack - Grapefruit Mangosteen, Red Mandarin, Sublime Lemon Lime
Cocktail Collection Pack - Watermelon Mojito, Pina Colada, Lychee Martini
Coffee House Collection Pack - Hazelnut Coffee, Vanilla Bean Latte, Caramel Macchiato
Fresh Collection Pack - Lemon Verbena, Calming Lavender, Fresh Cotton
Spa Day Collection Pack - Lavender Chamomile, Eucalyptus Spearmint, Seagrass & Sage
Summer Collection Pack - Vine-Ripened Watermelon, Summer Evenings, Costal Tide
scents that make sense
The Happy Wax Difference
Since 2014, we have been redefining home scent. Our all-natural soy wax melts are produced by hand in Hillsborough, North Carolina.
Made in the USA
Healthier, Happier Formula
Seriously Scented
What does "no scrape" silicone dish mean?
Included in every warmer is our silicone wax melt removal dish which allows for super simple clean-up, unlike any other wax melter on the market. Once your wax cools off, simply remove the silicone liner and 'pop' out your used wax into the waste bin. No mess, no scrape, no problem!
How many bears should I be melting in my warmer?
We recommend starting with 1-2 of our scented soy wax melts in our Mini Mod and Outlet Wax Warmers. For larger warmers, like our Signature and Mod Warmers, we recommend starting with 2-3 of our scented wax melts and increasing based on your preference. Our wax melts warmers are compatible with all scented wax melts, cubes and tarts!
What are the differences between the Mod Warmer and the Signature Warmer?
Both our Signature Wax Warmers & Mod Warmers are large tabletop wax warmers. They both feature a 3-6-9 hour auto shut off timer, include our silicone dish, and can fit up to 6-8 Happy Wax bears. What makes our Mod Warmer different is its sleek design. The timer buttons are placed on the power cord as opposed to the base, so you can keep them hidden out of sight.
See below for more details between warmers:
*Please visit the each specific product page for more details on each warmer
For more information please see a complete list of all FAQ's on our page here. 
Shipping
Orders are shipped out from our warehouse located in Hillsborough, NC within 1-3 business days after being placed.
Warranty
Warmers:  Happy Wax warrants your new warmer to be free from defects in materials and workmanship under normal household use for a period of one year (365 days) from the date of purchase.
Warmer Bulbs:  Happy Wax warrants your new warming bulbs to be free from defects in materials and workmanship under normal household use for a period of 90 days from the date of purchase
What does this warranty cover?
During the warranty period, the original manufacturer will replace the product or parts at no charge to the customer.

What is not covered by warranty?
Accidental damage
Abuse
Neglect
Connection to incorrect voltage or power supply
Attempted repair
Loss or theft
Returns & Replacements
If you are having issues with our products or are not happy with a purchase, please contact us via Email at hello@happywax.com (M-F, 9am-5pm EST) and we will work to ensure that you are 100% satisfied. It's the Happy Wax way! 
Refunds or replacements are offered within the first 30 days of purchase. After 30 days, only replacements will be available.
Please see our FAQ for full details.